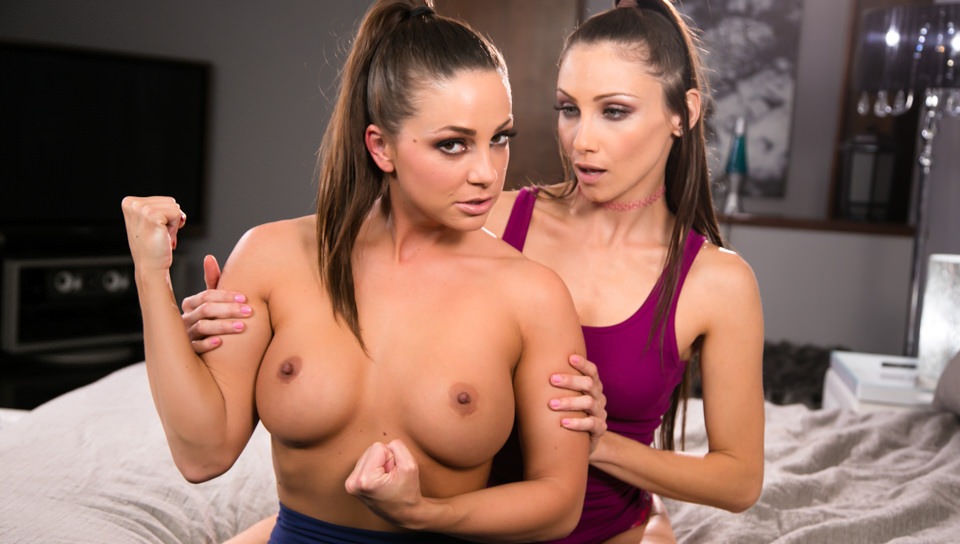 Abigail Mac is getting pumped for the gym in the bathroom, but her girlfriend Celeste Star is just waking up. When Celeste tries talking her out of going, Abigail insists she's raring to go after taking a pre-workout supplement. Celeste thinks they should use that energy to have sex. Abigail gives in, but only if Celeste will be her soul mate. Celeste kisses Abigail's cute face and pulls off her sports bra like she's been waiting to fuck her all night. The lesbians embrace and move into the bedroom.
Abigail pulls of her lover's top and gropes her sexy ass. She also pulls off Celeste's panties to find out if she's wet. Then they play a game. Celeste shut her legs and Abigail pries them open, working out her arms before giving her girl a tongue bath.
Now Abigail is hot and asks Celeste to cool her off. Celeste removes Abigail's workout pants and kisses her all over. She spanks her firm legs and squeezes her meaty pussy lips, swelling Abigail's clit. Celeste sucks on her pussy till she cums.
Celeste hoists up her ass and Abigail plants her face in there and rims it. They collapse into 69 and lick each other out until Celeste orgasms in Abigail's mouth. Celeste licks Abigail's labia till she cums. They wetten their slits with spit and grind their suctioned pussies till they cum. Then Abigail works her core holding herself up while Celeste sucks another cum from her pussy!