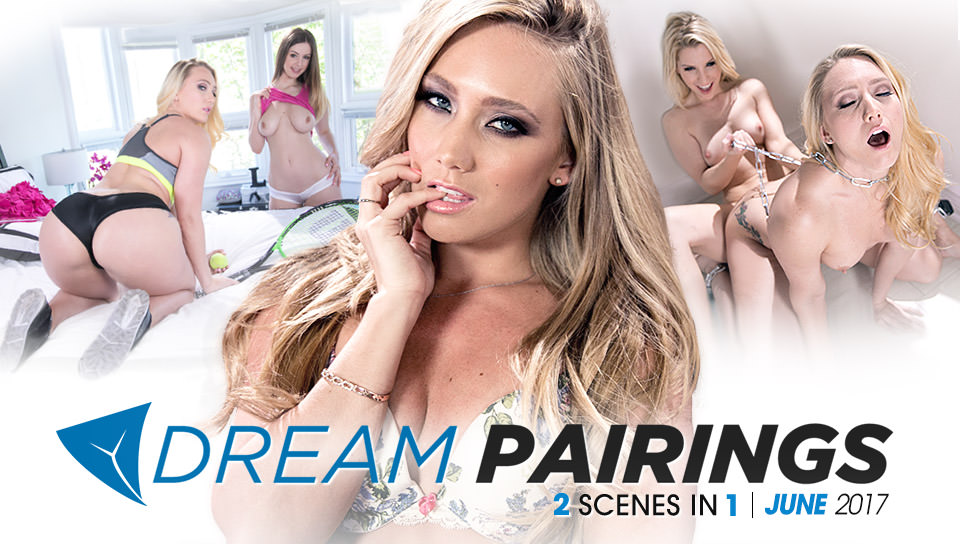 After an innocent game of tennis, AJ Applegate and her girlfriend Stella Cox go home for a shower and sex. Someone sinister is watching the lesbians fuck through the window but they don't see the peeping Tom. AJ's attention is trained on making Stella cum. The masked snooper keeps watching as AJ rides Stella's tongue till she cums. After insatiable Stella grinds AJ's slippery pussy, AJ runs downstairs to get them a snack.
Neither of the girls see him gain entry to the house. He snatches Stella first, then AJ, and takes them to a secret location. When the terrified girls come to, they're naked and bound to the the bottom of a stairwell. And they're not alone. Beside them in chains is a naked blond woman who calls herself Ashley Fires. She says she's been kept here for weeks. She recognizes AJ from her tennis lessons. Her tennis coach was obsessed with AJ. He thought Ashley looks just like her.
They hear him coming. He wants to take Stella. Stella starts freaking out and AJ clutches her legs trying to keep Stella in the stairwell. But it's no use, he takes Stella anyway, leaving Ashley to comfort AJ. Ashley says she had a girlfriend too when she first came here.
Ashley tries to distract AJ with a proposition. Since they both like women, and they don't how much time they have, they should spend it together having sex. AJ is distraught but she lets her kiss her on the mouth, and in between her legs. Ashley makes her cum then tribs her pussy. AJ feasts on Ashley's pussy like it's her last. After Ashley erupts in orgasm, she hoists AJ on top of her in 69. They lick and finger each other's pussies until the masked man comes back. Who will he take this time? Click to find out!