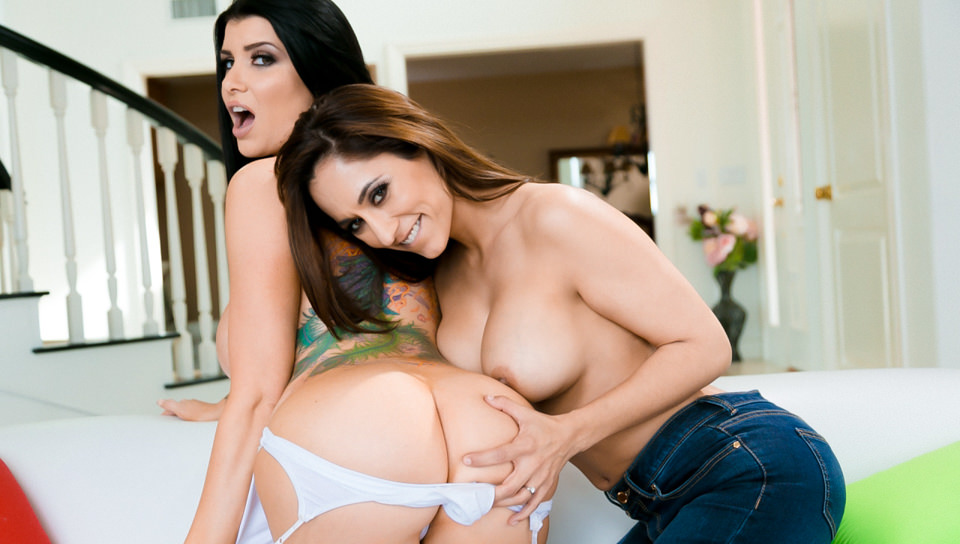 While Reena Sky's military husband is deployed in Iraq, he asks her to seduce the nanny Romi Rain and video tape it. After repeating his request enough times, Reena understands he's serious. As Reena reasons through it, she agrees that Romi is hot and she appreciates her company. Reena loves her husband and wants to make him happy. If it's her wifely duty to cheat, then she'll fuck the nanny and share the video recording. Knowing how much it will please her husband, Reena anticipates Romi's arrival more eagerly today.
When Romi walks in wearing a skimpy white tank top, Reena fawns over her tits. She stays at home while Romi dusts and the newborn naps. The girls get to talking about relationships. And when Romi announces she's taking a break from guys, Reena wants to know if that means she dates women. Romi laughs that she's been with a woman once. Reena admits she had a girlfriend before she got married, then Romi heads into the living room unsure how to respond.
Reena follows Romi into the room and hides the live recording Nanny Cam on the mantle. She sits down next to Romi on the sofa and gushes over her beauty. Reena tries to steal a kiss, but Romi pulls away, batting her lashes shyly, and stating that she doesn't want to come between her marriage. Reena promises she would be no imposition. This time Romi returns her kiss. Her huge tits fall out of her tank top instantly. Reena gropes her tits and mouths her erect nipples. Then she pulls off Romi's pants.
Romi heatedly strips off Reena's blouse and jeans, kissing her and declaring her too beautiful to be neglected. Wearing only pink sneakers Romi outstretches her legs and Reena devours her pink slit. Reena climbs onto the sofa and hovers her naked pussy over Romi's mouth. Feeding it with fingers and rimming her asshole, the nanny makes her cum multiple times over.
When Romi turns around and presents her juicy ass unwittingly to the Nanny Cam, lesbian Reena unleashes on it. Licking and fucking Romi's holes, Reena puts on quite a performance for her husband overseas. Releasing her pent up sexual energy, she frantically rocks her hips, tribbing Romi's wet pussy till she extracts the mother of all orgasms from her hungry cunt.
Lesbian Romi clambers onto Reena's pussy and tribs her with crazed desire. She hornily spreads her legs around Reena's head and serves her pussy straight into her mouth. When Reena's done sucking the cum from her clit, Romi tribs her pussy in reverse, riding her thigh freestyle. After that, the lesbians flick each other's clits and 69, desperate to taste and be tasted, till the wee one wakes up!