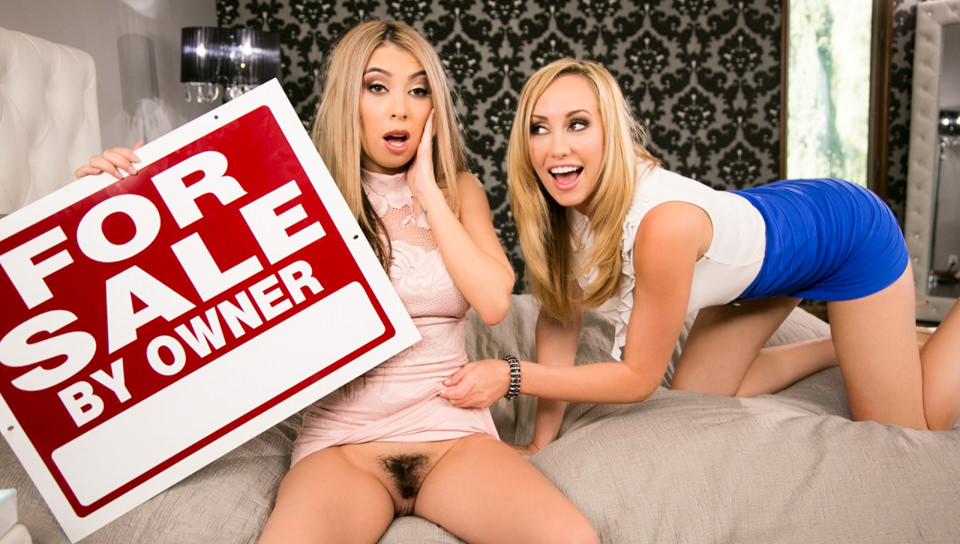 Real estate agent Brett Rossi shows homeowner Kat Dior the newly completed renovations that will help sell her house. They get to the master bedroom and Brett gives the frumpy seller an extreme makeover so she can appeal to the caliber of home buyer who will pay double the asking price. She does her makeup and puts her into a sexy dress. Then she explains she has to close the deal by performing oral sex.
When Kat looks at her in shock, Brett sits her on the bed and says she's going to demonstrate what she means by oral sex on her pussy, and then Kat can practice on her. Kat reacts with confusion and tries to object, but Brett insists this is how it's done these days. Kat lets the smooth talking agent undress her.
Once Brett starts licking her pussy, Kat melts with pleasure and cums in her mouth. After Brett rides her tongue, she licks Kat's asshole. Kat enjoys her first rimming, then returns the favor to Brett. Brett tribs Kat till she cums hard plastered to her sopping pussy. Then Kat scissor fucks Brett till her pussy explodes!