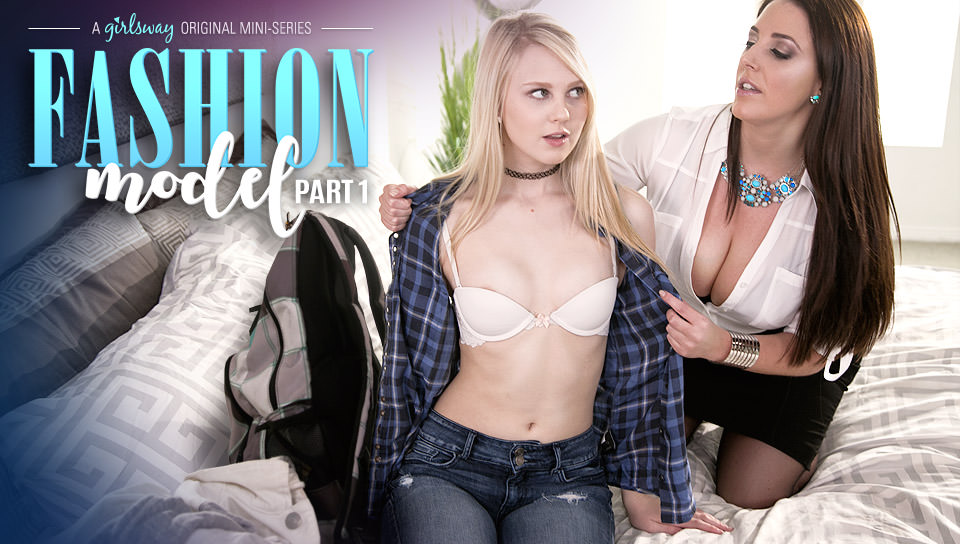 Small town beauty queen Lily Rader just landed in Los Angeles. She has dreams about making it big in the fashion industry and came here to see if she's pretty enough. The ballsy girl decides to walk into the city's top modeling agency, just when executive Angela White needs to find a fresh new face for a major client. Eternity Cosmetics wants this year's 'it girl' to launch their Ambition line, but the model is already booked. Angela agrees that Lily's quite stunning, but Lily's a farm girl from Plainsville who knows how to milk cows and wait on tables.
When Angela questions if she has the necessary skills, Lily insists Angela can teach her. She confidently states that she's going to be the biggest model that ever was. The busty executive is amused by little girl's nerve. She invites the courageous but penniless blond to stay in her home while she considers whether or not to represent her.
Back at the house, Angela proposes a test shoot with Eternity Cosmetics to see if Lily's girlish beauty transfers well on camera. Lily wants to skip the test and go straight to modeling but Angela insists there's more to it than being beautiful. It's also about learning to pose, and seduce the camera.
Lily turns up the charm, flattering Angela about her eye-catching beauty that must get her tons of men. When Angela responds unflustered, that she doesn't date men, Lily knows she what she has to do to Angela. She puts her hand on her leg and promises she's broken a few hearts, boys and girls.
Not skipping a beat, Lily takes off her clothes and offers her naked self to Angela. But Angela rejects her, she doesn't fuck her models. But something about this one is hard to resist. Lily straddles her and asks for one kiss, and Angela relents as she caresses her milky white skin. She grabs two handfuls of her juicy ass and spanks her for being a brat, thinking she can just walk in and become a top model.
Angela wants proof that she can move her little body. She sucks her small creamy tits, tosses her on the bed, and spreads her long legs. Angela turns her onto her tummy and examines her heart shaped ass. She reaches between her legs to touch her pretty pussy, then shoves her big tits in Lily's fresh face and tells her to suck hard on her nipples.
Angela undresses then runs her lesbian tongue expertly along her pretty pink slit. She sits her big ass over Lily's open mouth and rides her face until she cums. After that, Angela lays Lily on her bed, tastes her little tits, and rubs her pussy between the model's open legs. She grabs hold of one leg, and with her huge tits flailing, begins tribbing the girl. Then, Angela finger fucks Lily vigorously until the juice runs down her leg. Angela is one hot mess when she makes the call on behalf of her newest girl. Will Lily be given the part? Click to find out!