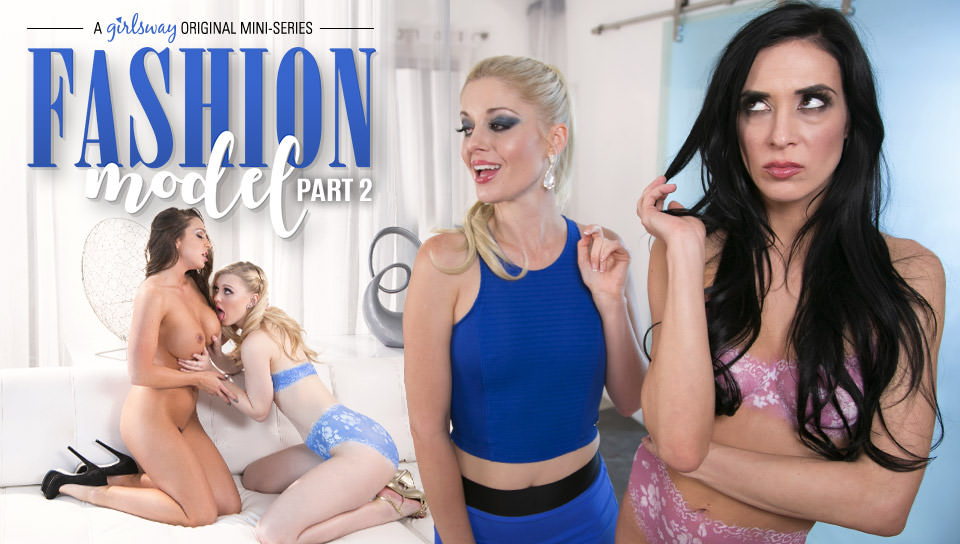 Budding blond fashion model Lily Rader is ready to take her place as the fresh new face of Eternity Cosmetics. She walks onto the photography set wearing nothing but an airbrushed bra and panty set in blue, dazzling the sultry makeup company owner Charlotte Stokely and the hot photographer Abigail Mac. Supermodel co-star Aiden Ashley is forced to step aside as Charlotte gushes over the new girl's astounding beauty.
Aiden scowls in her matching pink airbrushed lingerie. The diva doesn't like sharing the limelight and demands a closed set. Aiden and Charlotte take their pissing match into the other room, where Charlotte turns the tables. She thinks Lily is perfect for the campaign and full of ambition. She threatens to drop Aiden, unless she proves how much she wants the part. Aiden knows how it works in the industry. She agrees to give Charlotte what she wants. Charlotte hikes up her dress and Aiden goes down on her, eating pussy for the first time. The lesbian fashion mogul is impressed and cums in her virgin mouth.
Back out on the photo set, Abigail coaches Lily through her first shoot. Just as they sit down to look over the photos on the digital camera, Lily notices what's going on in the other room. Abigail states matter of factly that's how girls get ahead in this industry. If Lily wants to win favors, she'll fuck her. Lily doesn't want to take that route to the top, nor does she want Aiden to eclipse her. She agrees to go with it for the sake of being famous. Abigail unearths her huge perky tits from her top. Then her pants come off and she parts her legs. Lily crawls between them, taking a mouthful of her pussy and sucking her clit till she cums. Abigail spits on Lily's pink slit, then fucks it with her thumb till her orgasm releases.
That's when Aiden sees Lily fucking the lesbian photographer and storms into the room throwing a tantrum. Charlotte is amused by her tirade and proposes a trade. She tells Aiden to be a good girl and lick Abigail's pussy, while Lily switches to licking Charlotte. Then the ladies flip over and models lick their assholes. Charlotte and Abigail extract the cum from the models, and make the rivals kiss and make up. Then the lesbian foursome forms a daisy chain, rimming ass and licking pussy, lined up in a row! Enjoy!