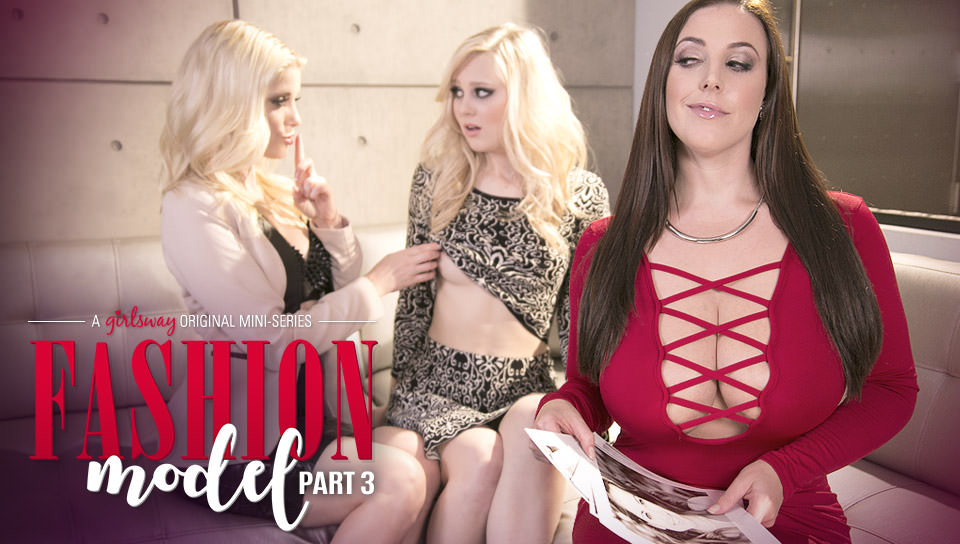 After the fresh faced model Lily Rader steals the show at her first photo shoot, the boss of Eternity Cosmetics Charlotte Stokely delivers good news to her agent Angela White. She wants to offer Lily an exclusive contract for the Ambition line. They tell Lily her dream is coming true. Charlotte's only concern is Lily's ambition. Will it dwindle once her contract is signed? Lily strips naked, not missing a beat. She swears she will always do what it takes. Angela beams proudly at her protege and schemes with Charlotte on sealing the deal with a threeway. Lily must prove again that she's down to fuck her way to the top.
The model demurely removes Charlotte's stilettos and Angela's high heels, submitting to her dream makers' orders. The lesbians close in on the nubile blond and begin to devour her slowly. Lily obediently opens her long, lithe legs and four roaming hands caress her all over. She returns their hungry kisses with her wet and wanting mouth. Charlotte removes her black sequins brassier and Lily sucks on her hard nipples. Angela pulls out her boulder size tits for Lily to service next. The platinum boss wiggles out of her skirt and panties and feeds Lily her naked pussy. Angela spanks Lily's ass dominantly before joining Charlotte on the feeding line.
Angela commands her to make Charlotte cum, and Lily skillfully obeys. Then she releases Angela's orgasm into her mouth. And again when the busty agent rides her face and eats her ass. Charlotte takes Angela's place over Lily's mouth, and Angela licks and fingers Lily's wet pussy. The agent grinds her lesbian pussy onto Lily's as she sucks more cum out of Charlotte. Lily lowers her pussy over Angela's mouth and eats Charlotte frantically until the threesome all cum together. Then Lily tribs Charlotte vigorously making her cum hard. Angela and Lily tag team Charlotte with their penetrating fingers and tongues until her pussy explodes. Then Angela eats Lily's pussy while Charlotte licks the model's ass till she cums, earning her just reward. Stardom!