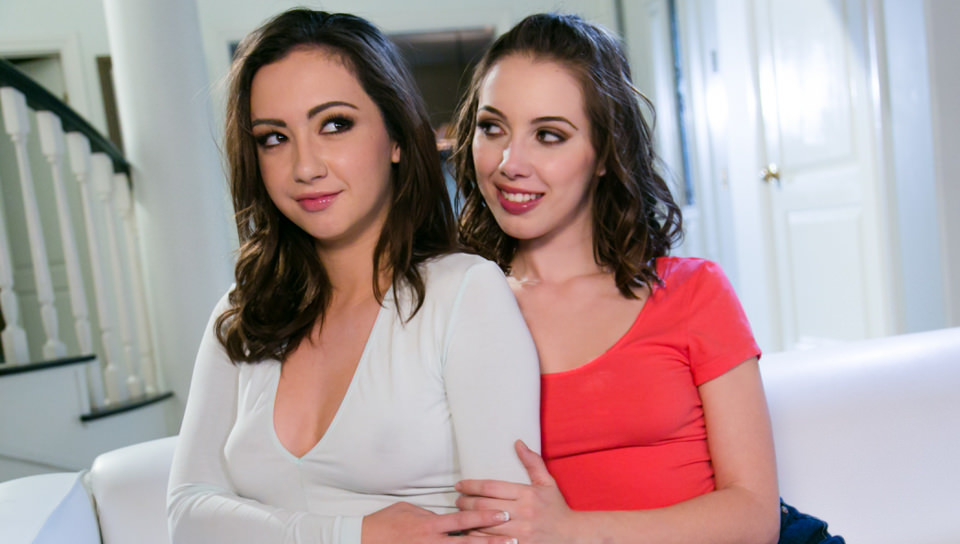 Teen Lily Jordan is new in town after moving out West to live with her father. When he leaves her at home alone for the night, Lily feels homesick and spooked by the huge creepy house. Rather than be all by her lonesome, she calls her new school friend Jenna Sativa to come over. Jenna suggests they talk instead of watching TV on the sofa. When Lily laments about missing her old life and the boyfriend she left back home, Jenna strokes her hair and offers to be his substitute.
The thought of it feels weird to Lily. She's never kissed a girl before. Jenna kisses her softly on the lips and runs her hands across her body. Lily is nervous about her dad walking in and tries to stop Jenna from going any further. Jenna backs off and offers to go home. But Lily decides she wants her to stay, even if it means playing.
Jenna cozies up to Lily with kisses and caresses on her little teenage tits. She slips off her top and Lily's tiny shorts. She lays Lily back on the sofa and gently strokes her pussy then climbs between her silky legs and tastes her. Jenna licks and sucks and laps up her juices till she cums in her mouth. Then she seats herself between Lily's legs and pulls her in close till their wet pussies kiss. They rocks their hips in unison tribbing each other till they cum.
After Lily flicks Jenna's clit with her pierced tongue, the lesbian teens finger each other till they cum all over the couch. Jenna gives Lily a rim job, then rides her tongue with a finger in Lily's pussy. Then she fucks her face and eats her out in 69.