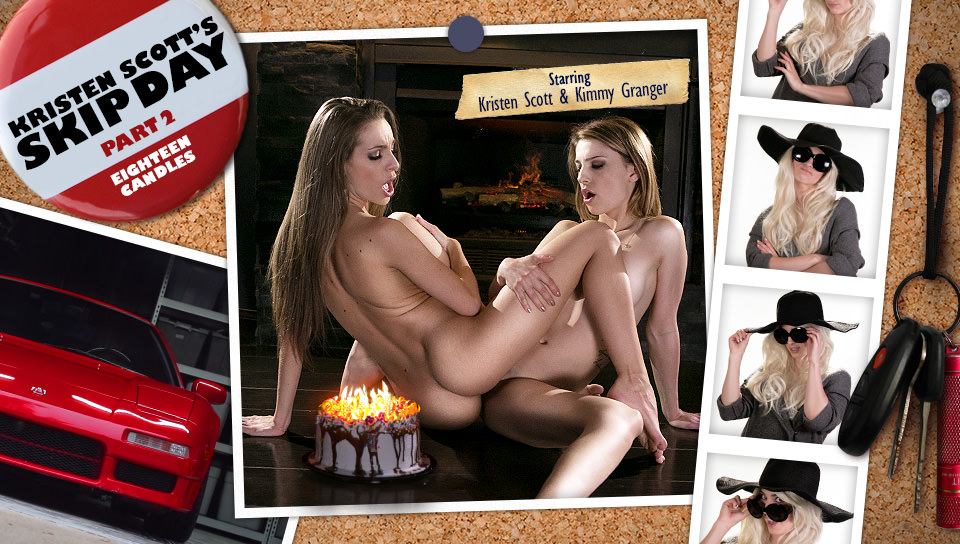 Kristen Scott is skipping school to celebrate her eighteenth birthday. She's hanging out at her best friend Melissa Moore's house, The sneaky teens come up with a plan to get Kristen's girlfriend Kimmy Granger out of school. Melissa calls the school principal pretending to be Kimmy's stepmother. She comes up with a story on the spot about being in labor and needing Kimmy at the hospital to witness the birth of her new baby.
The principal really isn't buying it. He knows Kimmy and Kristen are dating, and he suspects they are trying to pull a fast one. Just then, Kristen calls in sick on the other line, utterly confusing him. He apologizes to the fake Mrs. Granger and dismisses Kimmy from class. Their clever ruse is a success. The girls have twenty minutes to pick up Kimmy from school. Kristen talks Melissa into letting her drive her father's beloved sports car.
Kristen picks up Kimmy without a hitch. But, instead of bringing the car right back to Melissa, Kristen drives to Kimmy's house in Pacific Heights. Kimmy wants to give her a birthday present. After Kristen blows out the candles on her birthday cake, Kimmy offers herself to Kristen, now that she's finally eighteen.
Kristen is epically excited that she gets to lose her virginity on her birthday. They make out in front of the fireplace and playfully remove each other's shirts. Kimmy arches her back, and stretches her sexy slim body as Kristen teases her pussy over her panties. She sensually licks her wet slit with mounting fervor till Kimmy erupts in her mouth. It's Kimmy's turn to taste the birthday girl and she can hardly wait. Kimmy licks her nipples, peels off her pants and smacks her sexy ass.
Kimmy finally gets to lick her girlfriend's meaty pussy, sucking and slurping the sensitive flesh. She fucks her with an inserted finger, and Kristen twitches as her juicy pussy cums. Kristen wraps her legs around Kimmy and tribs her pussy to orgasm. The lesbian teens 69 then Kristen rubs Kimmy's clit till her pussy squirts all over the floor! They cum again tribbing their bums together! Only twelve missed calls from Melissa. Think she's upset? Click to find out!