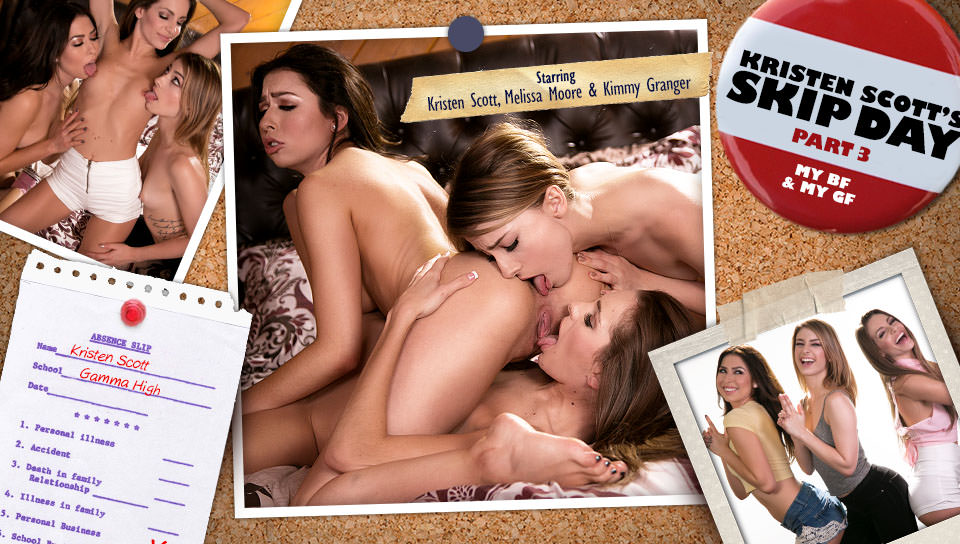 It's Kristen Scott's eighteenth birthday and she just lost her virginity to her girlfriend Kimmy Granger. The lesbian teens are basking in the afterglow of sex when Kimmy asks Kristen if she's ever thought about hooking up with her best friend Melissa Moore. When Kristen doesn't know what to say, Kimmy explains that she loves Kristen, but they're going away to college soon. Rather than be exclusive, they should be free to experience life, and then decide in four years if they are meant to be together forever. Kristen thinks about and decides she likes the idea of fucking her super hot best friend with her girlfriend.
The couple drives over to Melissa's house to hit on her for a threeway, and to return her father's precious car. Melissa has been freaking out over that car. She's relieved it's back in the garage unharmed.
The three girls are hanging out on Melissa's bed when Kristen asks Melissa to show Kimmy her amazing tits, weirding out Melissa. The lesbians divulge their intentions for a birthday threeway. They make out seductively in front of Melissa, turning her on with the sight of Kristen's small titties. Kimmy invites Melissa to suck on one nipple while she takes the other in her mouth.
Kimmy reaches into Kristen's pants and feeds a wet finger to Melissa. Kimmy and Kristen ask Melissa to take off her top. They grope her big tits and suck on her nipples. The lesbian girlfriends take off their tops and play with Melissa's juicy pussy. Kimmy licks her clit then kisses Kristen. Once Kristen's pants come off, she climbs onto her hands and knees. Kimmy fingers her while Melissa juices her pussy.
Next, Kristen goes down on Melissa and makes her squirt with Kimmy's fingers for help. Kristen plunges her digits deep into Melissa's juicy pussy till she cums again. Kimmy sits on Melissa's face while Kristen rubs out more squirt from Melissa's cumming pussy.
Melissa rides Kimmy's face while Kristen scissor fucks her girlfriend till she cums from pressing against her wet pussy. Kristen rubs a cum from Kimmy's clit, then she eats her pussy while Melissa rims her ass.
Kristen uses her fingers to make Melissa squirt while rubbing out an orgasm from Kimmy. Melissa 69s her best friend's girlfriend while Kristen devours Melissa's squirting quim. Kristen and Melissa kiss each other while they finger Kimmy to orgasm. Now that's what Kristen calls a birthday party! Will the principal spoil her fun? Click to find out!