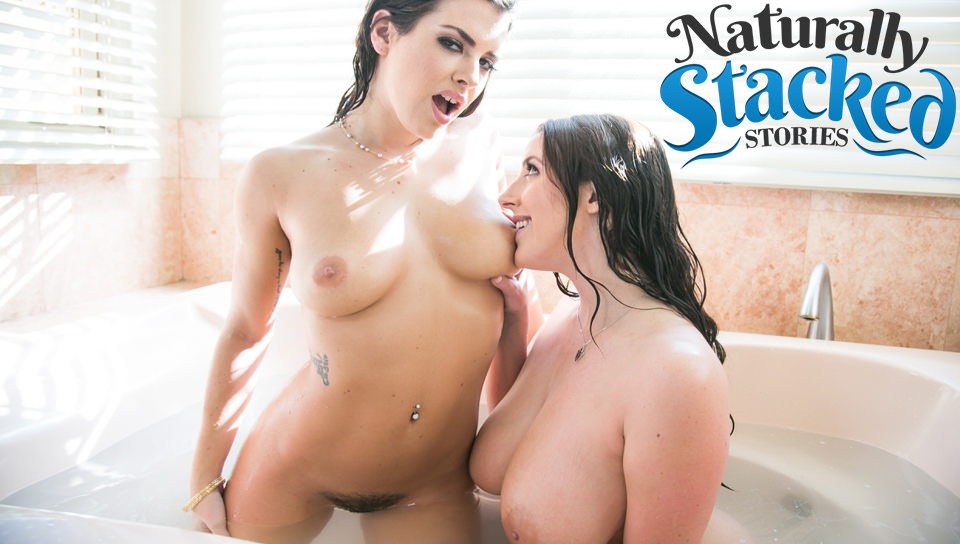 Keisha bashfully undresses as Angela showers her with compliments about her smooth skin, even tan and clear complexion. Keisha stands before her naked and swooning under the weight of her kind words. Angela tells her she'll think about promoting her, but for now she needs to be cleaned. Naked Keisha obediently washes her back.
Keisha confesses she always wanted to be a model. Angela swears it's a tough business. In the next breath, she invites Keisha to slide into the bath with her. She'll have an easier time washing her back. Keisha slips into the bath behind Angela.
Angela asks Keisha if she would consider nude modeling. It pays well. She could afford a new car and get to work on time. Of course, she'll have to change her name to do real modeling. Then she asks Keisha to wash the rest of her. Feeling mindfucked, Keisha wonders what she means by the rest of her. Angela lies back in her arms. Keisha caresses her big breasts while Angela seduces her with stories of the riches that could be hers until Keisha understands what she must do.
Angela switches places with Keisha in the tub. She runs her fingers over all her parts promising her clients will love her. She begins washing her with the washcloth, squeezing her full breasts and pinching her nipples to see how hard they get. Then Angela asks Keisha what she would be willing to do to be a star. Keisha says anything. Angela kisses her soft lips with longing to feel the rest of her skin.
She samples the softness of her breasts taking each one in her mouth before fingering her pussy. Angela rubs her tits against Keisha's then devours them. Angela feeds Keisha her tits and then sits on the edge of the tub. Keisha licks her tight pussy with her fingers deep inside giving Angela a trembling orgasm.
Angela descends upon Keisha's sweet lips coaxing her clit out of hiding. She makes her cum then flips her over to eat her ass. Angela tribs Keisha's pussy in the bath, splashing water everywhere. Then Angela rides her tongue till she orgasms. She watches her masturbate then feeds her the cum off her fingers. The lesbians scissor fuck again, then Keisha fingerbangs Angela till she convulses from cumming in the tub.