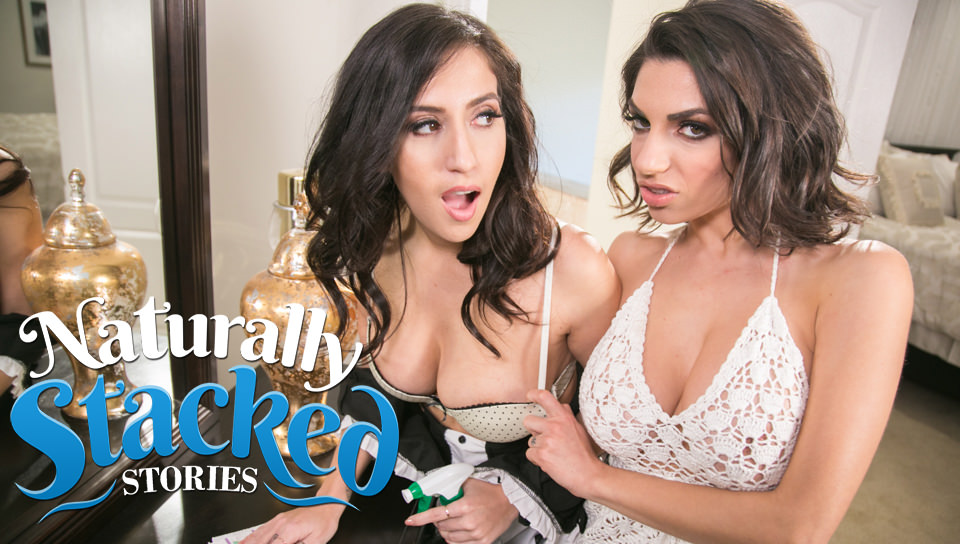 Housekeeper April O'Neil gets a new client with an odd request to clean in a French maid costume. Even stranger, no one seems to be home when she arrives. But Darcie Dolce is home and she's secretly watching. When she changes into the maid's outfit and starts cleaning, Darcie is snooping from outside the room eager to experience her lesbian fantasy. She can't resist April for long in that outfit. She stealthily approaches the maid wearing a short crochet dress. After brief introductions Darcie flashes her pussy and says it's the next thing she needs her to clean.
Something in Darcie's firm tone and big brown eyes convince April to put down the sponge and take off her outfit. Darcie helps April undress then exposes her own naturally stacked tits. April lets Darcie take off her bra and suck on her full natural boobs, then she tries to get back to her housework, but Darcie insists the house is spotless, and not to leave because there's still plenty more for her to clean.
Darcie lays April onto the bed and parts her legs. She plants her face in her bush and licks the cum out of her pussy. Then Darcie straddles her wet pussy over April's warm mouth. Her tits bounce as she grinds against her tongue cumming triumphantly.
They exchange succulent kisses and then wrap themselves around each other's legs. April lies back letting Darcie trib her to orgasm. April's tongue bathes Darcie's pussy and then she cums while tribbing her. Darcie flips over presenting her perfect ass and April dives to eat it. Darcie puts April on all fours and fingerbangs another orgasm out of her pussy!