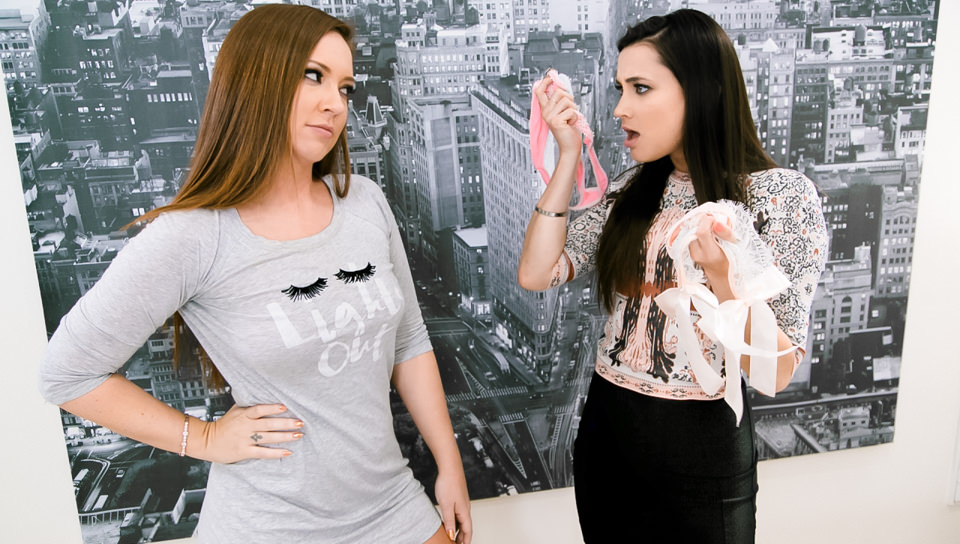 Georgia Jones is on her way to work when she catches her roommate Maddy O'Reilly trying on her glitzy panties. Now she knows what happens to the pairs that disappear. She used to blame the washing machine for eating them, but it's just Maddy with a penchant for pricey panties. Maddy takes off the underwear and playfully shoves them under Georgia's nose to prove they're still fresh. When Georgia doesn't complain, Maddy teases her for liking the smell of her pussy. Maddy thinks the top she's wearing belongs to Georgia too. She takes it off and hands it over, stark naked. Georgia doesn't know what's gotten into her roommate.
Maddy wrestles Georgia onto the bed and pries off her shirt, ignoring her protests about being late for work. Maddy wants Georgia to suck on her tits. She kisses her to encourage compliance. Then Maddy hikes up Georgia's skirt, pulls down her drawers and licks between her legs.
She stuffs Georgia' mouth with her beloved panties, then takes off her bra and licks her little hard nips. She hoists her onto her lap and kisses her deeply, then pulls her in close and tribs her pussy, slowly building in speed and intensity till she cums.
After Maddy rubs out another orgasm from Georgia's pussy, the lesbian stoops over Georgia's gaping mouth and rides her tongue. Georgia kneels for Maddy and lets her stuff a pair of panties into her mouth. Maddy rubs Georgia's pussy from behind until she cums on her fingers. Then Georgia licks Maddy's pussy into a frenzy using her panties to soak up the cum!