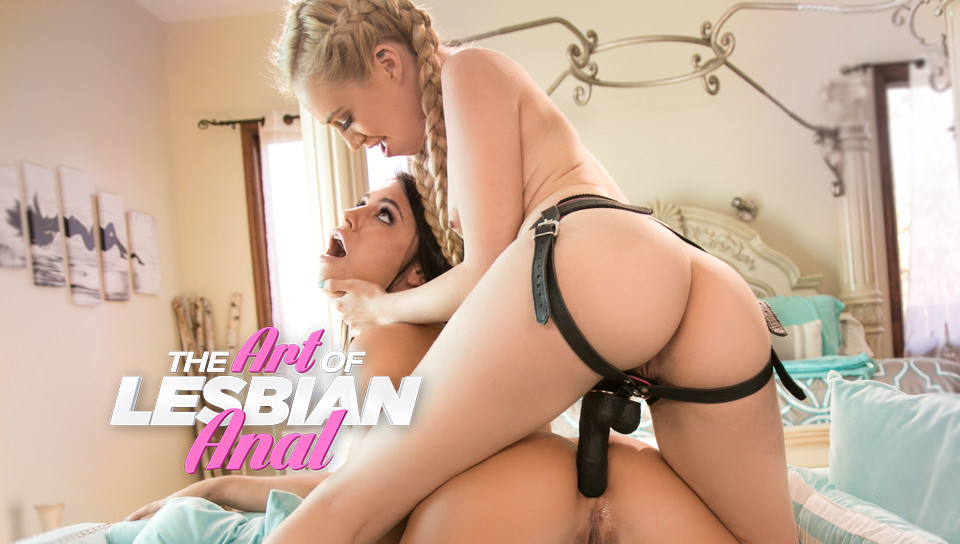 Topless Adriana Chechik is getting ready for game time with Lyra Law. The lesbian ladies have a bet going on, and they've both been working out in preparation. If Lyra wins she can do whatever she wants to Adriana. Lyra comes over in a white sports bra and yoga pants. She shows her the big black strapon that will be the prize and the punishment if Adriana loses the bet.
The challenge begins with an order decreed by Lyra for Adriana to take her top off. Adriana leans back on the sofa and Lyra nibbles her nipples. She pulls Adriana's panties off and teases her bush. Then she eats Adriana's pussy making her wet and horny for more. Adriana parts her legs and holds them above her head while Lyra sticks her tongue in her asshole. Lyra slips out of her pants and tells her little sex slave Adriana to make her cum. The lesbian brunette licks Lyra's pussy and sucks her clit till she bounces like a rubber ball.
Lyra turns around and feeds Adriana her ass while Adriana fingers herself as per Lyra's orders. Then Adriana rubs Lyra's pussy as she gyrates her hips till she cums. Lyra rubs Adriana's pussy in retaliation and pushes her over the edge to squirt all over the sofa. After Lyra rides Adriana's face, she shoves the strapon in her mouth and makes her squirt again with her expert fingers. Then Lyra straps herself into the big black strapon and fingers Adriana's asshole before fucking her ass with the plastic cock.
Lyra's strap-on assthletics makes Adriana have a sopping wet orgasm. But Lyra keeps pounding Adriana's ass, showing her prowess in the art of lesbian anal. She lets Adriana take a break and suck the strapon before she gets back onboard in reverse cowgirl. Lyra rubs Adriana's clit at the same time till she quivers and squirts more of her juices. Then Adriana needs a mouthful of Lyra's bushy pussy. She pays her back for all those orgasm, sucking her clit till she makes Lyra cum. Enjoy!