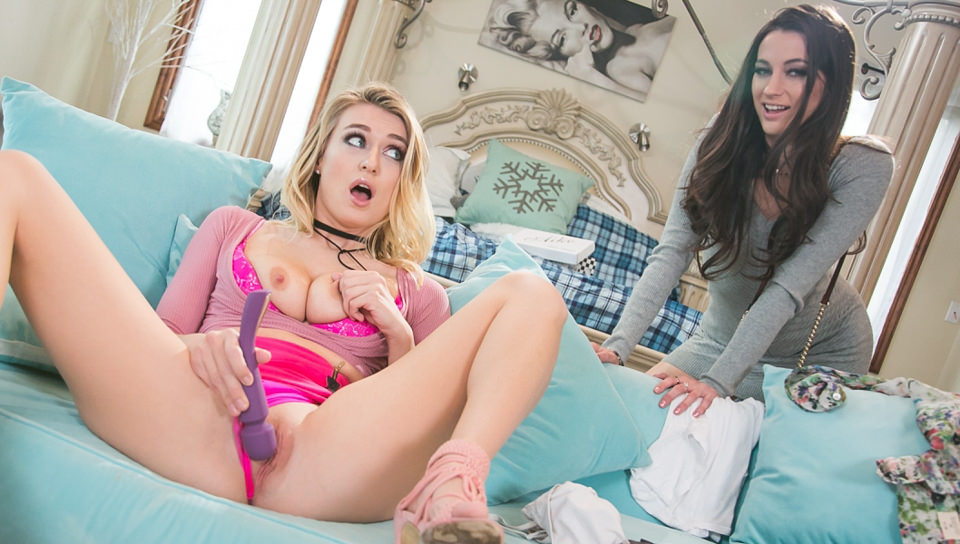 Georgia Jones is one hot mess. Sick of losing clothes in her own closet, she calls the closet organizer Natalia Starr to help her get a handle on her messy bedroom. Natalia offers to come over right away and Georgia hangs up the phone feeling empowered.
Natalia walks through the door in a hot pink mini skirt and sexy wrap top. The blonde bombshell explains that she'll group her things into categories. Georgia leaves her alone in the house and heads to the office, promising she'll be back by 5PM. Natalia gets to work sorting through Georgia's belongings. She's making real progressing busting the clutter. When she finds Georgia's vibrator she takes a well deserved break to play with her pussy.
Natalia's about to cum all over Georgia's sex toy when Georgia walks in to grab the purse she forgot at the door. Once Natalia finally notices her watching, she begs her forgiveness. Georgia assures her it's fine with her. In fact, she wants to see her pussy and touch her tits. Natalia tries to regain her composure as a professional, but Georgia caught her mid-orgasm and Natalia easily succumbs to her kisses.
Georgia removes Natalia's shirt and panties. She suckles her nipples, then lets Natalia return the favor. The lesbians focus their play on their horny pussies. Georgia laps at Natalia's shaved pussy till she cums all over her mouth.
Natalia kisses Georgia's clit delicately and deliberately, licking and sucking till she cums in her mouth. Georgia eats Natalia's ass and pussy from behind, then Natalia tribs her wildly till she cums. After Georgia tribs out an orgasm on Natalia, the lesbians lick each other frantically in 69 until they collapse in a heap of bliss!